'I Love Poland' Lowers Transatlantic Time
The VO 70 lowers Comanche's 2022 Time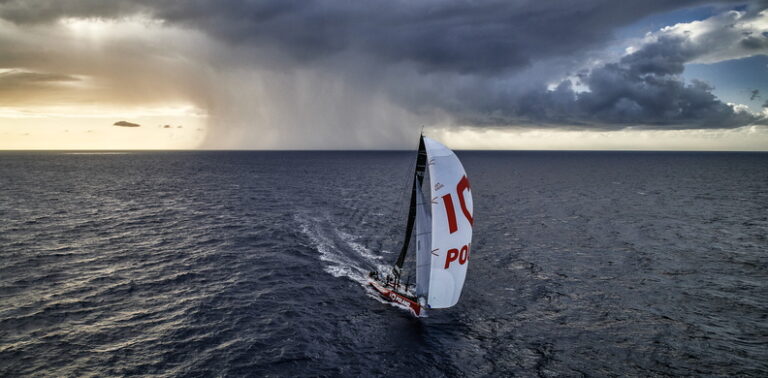 The Polish National Foundation's Volvo 70 I Love Poland (POL), skippered by Grzegorz Baranowski crossed the finish line outside Camper & Nicholsons Port Louis Marina, Grenada on Tuesday 17th January 2023. Taking Monohull Line Honours in under nine days.
I Love Poland Crew: Grzegorz Baranowski, Mateusz Byrski, Arkadiusz Fedusio, Adam Glogowski, Grzegorz Gozdzik, Robert Hajduk, Dominik Janowczyk, Pacyfik Koseski, Konrad Lipski, Borys Michniewicz, Bartosz Nowicki, Filip Pietrzak, Patryk Richter, Jakub Surowiec. Nine of the I Love Poland crew are under 35 years of age and skipper Grzegorz Baranowski is the leader and oldest member of the team.
A highly accomplished match racer, Baranowski became involved in the Polish National Foundation programme in the early stages. I Love Poland is successfully producing top class Polish offshore sailors. "I am very proud of the team. Last year was our first Transatlantic Race and our aim was to complete the race safely. This year, safety was still the top priority but with more experienced sailors on board, and some new youngsters, we could push harder. To win this race flying the Polish flag, with an all-Polish crew is just perfect. I Love Poland race with a lot of passion and emotion; you can feel the power on board.
A Volvo 70 was made for ocean racing and in 15-20 knots of wind speed it is really wet on deck, but she really starts to fly. The RORC Transatlantic Race is the perfect start to our Caribbean programme and next we will sail to Antigua to race in the RORC Caribbean 600," commented Grzegorz Baranowski dockside.
Images © Robert Hajduk